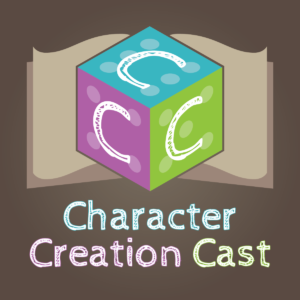 Series 20.3 – Heart with Grant Howitt and Chris Taylor [Designers] (Discussion)
September 16, 2019
Show Notes
In the final episode of series 20, and we welcome back Grant Howitt and Chris Taylor, designers of Heart, to talk about the character creation process, their hopes for the game, and the reasons behind the design choices they made. Amelia also gets to talk about jello and sand again.

Leave us reviews in any, or all, of these places:
Character Creation Cast on Apple Podcasts (The best place to leave reviews for us)
Character Creation Cast on Podchaser
Character Creation Cast on Stitcher
Character Creation Cast on Facebook
Guests and Projects:
Grant Howitt @gshowitt
Chris Taylor @TheMaddigan
Rowan, Rook and Decard @RowanRookDecard
Hearty Dice Friends @HDFpodcast
Timestamps:
00:00:00 – Announcements
00:05:19 – Introductions
00:06:31 – D20 For Your Thoughts
00:06:51 – Chris's start in games
00:08:33 – How did you decide what kinds of characters to put in Heart?
00:18:37 – The Jello to Sand Continuum
00:24:35 – Specific character options
00:28:51 – Lessons learned from Spire
00:38:47 – What does the process of character creation tell us about the game?
00:46:57 – Potential flaws
00:51:34 – Points of pride
00:53:46 – Changes from Spire
01:00:40 – FAN FIC TIME
01:09:47 – Take It Up A Level
01:10:31 – How do characters change?
01:21:42 – Grant's plugs
01:22:32 – Chris's plugs
01:23:51 – Closer
01:25:21 – Show Blurbs (System Mastery)
01:26:11 – Outtakes
Music:
Games discussed this episode:
Heart
Kickstarter: September 17th!
Our Podcast:
Character Creation Cast:
Amelia Antrim:
Ryan Boelter:
Our Website:
Our Network:
Network Patreon: