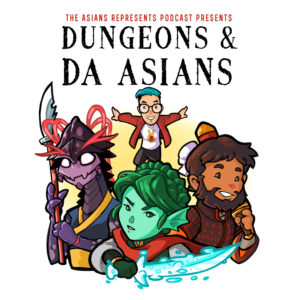 Dungeons & Da Asians (Bonus): Session 0 Redux
July 18, 2020
Show Notes
The Dungeons & Da Asians crew got together to convert their D&D characters to Quest – the new game that will be powering our adventure!
Shout out to Quest for their generous support of Dungeons & Da Asians! Head to www.adventure.game and use code REPRESENT at check-out to receive 10% off your entire order.
If you have questions about this episode's themes, suggestions, or anything else related to Asians Represent, or have sponsorship inquiries, get in touch with us on Twitter/Instagram @aznsrepresent, Facebook.com/aznsrepresent, or at aznsrepresent@oneshotpodcast.com.
Follow Daniel @danielhkwan, Ammar @ammarijaz, and Steve @DeeEmSteve on Twitter!
Music:
Intro/Outro: China Electro by China-P