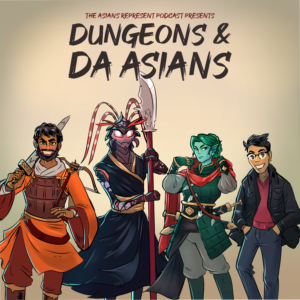 Dungeons & Da Asians #3: Mantou & Melodrama
November 1, 2019
Show Notes
Xia, the Kingdom of the Mist, is under attack. As our heroes race towards the capital Chang'an, they encounter a dark force that resides in the rice fields that surround the city.
If you have questions about this episode's themes, suggestions, or anything else related to Asians Represent, or have sponsorship inquiries, get in touch with us on Twitter/Instagram @aznsrepresent, Facebook.com/aznsrepresent, or at aznsrepresent@oneshotpodcast.com.
Follow Daniel @danielhkwan, Ammar @ammarijaz, and Steve @DeeEmSteve on Twitter!
Music:
Cloudy by KODOMOi
https://soundcloud.com/kodomoimusic
Creative Commons — Attribution 3.0 Unported — CC BY 3.0