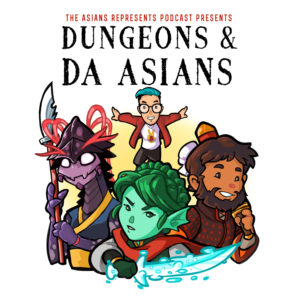 Dungeons & Da Asians #9 – Is that you W'leed?
October 1, 2020
Show Notes
On their way to the Shimmering Badlands, homeland of the People of Bronze, our heroes travel to the town of Lie Yue to rest and learn about Dong Feng's new powers.
his episode is brought to you by Roll20 – your virtual tabletop for playing games online. Whether you need maps, character sheets, video & voice chat, or dynamic lighting Roll20 has you covered!
Our Dungeons & Da Asians story is powered by Quest! Head to www.adventure.game and use code REPRESENT at check-out to receive 10% off your entire order.
If you have questions about this episode's themes, suggestions, or anything else related to Asians Represent, or have sponsorship inquiries, get in touch with us on Twitter/Instagram @aznsrepresent, Facebook.com/aznsrepresent, or at aznsrepresent@oneshotpodcast.com.
Follow Daniel @danielhkwan, Ammar @ammarijaz, Agatha @MightyyShrimp, and Steve @DeeEmSteve on Twitter!
Music:
Intro/Outro: China Electro by China-P