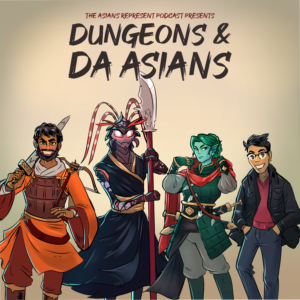 Feed Drop: Dungeons & Da Asians: Episode 1
June 8, 2020
Show Notes
James is taking the week off, so here is the first episode of Dungeons & Da Asians from the Asians Represent team!
Welcome to the Emerald Realms, a land on the brink of total war. Empress Zhouxia the Supreme sends untested political agent La Ning alongside Sky Soldier Dong Feng and Martial Artist W'Leed to the town to Jingde to investigate a mysterious cosmic phenomenon that threatens the legitimacy of her rule.
If you have questions about this episode's themes, suggestions, or anything else related to Asians Represent, or have sponsorship inquiries, get in touch with us on Twitter/Instagram @aznsrepresent, Facebook.com/aznsrepresent, or at aznsrepresent@oneshotpodcast.com.
BLACK LIVES MATTER
Find And Donate to a Local Bail Fund
Support Black Lives Matter
TWITTER
Daniel @danielhkwan,
Ammar @ammarijaz,
Steve @DeeEmSteve on Twitter!
MUSIC
Cloudy by KODOMOi

Creative Commons — Attribution 3.0 Unported — CC BY 3.0