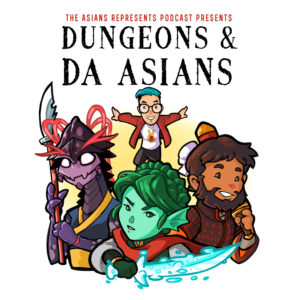 Dungeons & Da Asians #8 – Into the Shadewood
June 24, 2020
Show Notes
Dungeons & Da Asians is back! Picking up where we left off before the quarantine, our heroes venture into the heart of the Shadewood to hunt the vicious Shadow Marquis!
If you have questions about this episode's themes, suggestions, or anything else related to Asians Represent, or have sponsorship inquiries, get in touch with us on Twitter/Instagram @aznsrepresent, Facebook.com/aznsrepresent, or at aznsrepresent@oneshotpodcast.com.
Follow Daniel @danielhkwan, Ammar @ammarijaz, and Steve @DeeEmSteve on Twitter!
Shout out to Dice Envy for welcoming us to their family! Head to diceenvy.com/aznsrepresent and use code AZNSREPRESENT to get 10% off!
Music:
Intro/Outro: China Electro by China-P