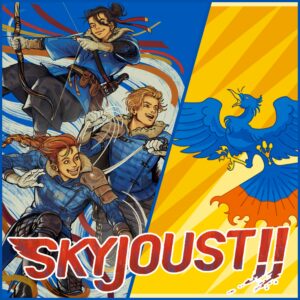 Skyjoust: Episode 2: Burning Tails
April 26, 2023
Show Notes
Torikoshi and Valkyrie evaluate the skills of their new recruits. There is hope for the Burning Tails this year but Torikoshi struggles to see it from underneath the shadow of his new responsibilities. June and Braith have trouble adjusting to the training and high-strung captain.
CONTENT NOTES
A teen struggling in a high pressure situation of their own creation
2023 CONVENTION TOUR SCHEDULE
ACD Games Day May 24-26, Madison WI
Gencon August 3rd-6th, Indianapolis IN
CAMPFIRE CARDS
Email preorder receipts to contests@oneshotpodcast.com to win the right to choose the subject of the next Skyjacks short story.
SKYJACKS: CALL OF THE SKY

SKYJACKS SETTING ZINE

BLACK LIVES MATTER
Find And Donate to a Local Bail Fund
MAILING LIST
If you want to be notified about our upcoming soundtrack, setting information, games, live shows, or anything else related to Skyjacks, join our mailing list!
JOIN HERE!
MERCH
Put Skyjacs on your body
MUSIC
Arne Parrott
"Division" Kevin MacLeod (incompetech.com)
Licensed under Creative Commons: By Attribution 3.0
http://creativecommons.org/licenses/by/3.0/
EDITING
Aly Grauer