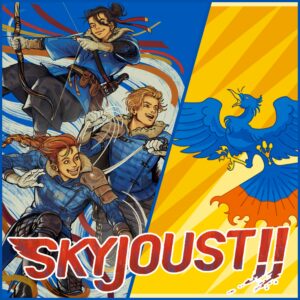 Skyjoust: Episode 1: Burning Tails
April 19, 2023
Show Notes
Torikoshi Honda has just been promoted to team captain of The Buring Tails fledgling league jousting team. He dreams of impressing his grandmother and finally getting a win for the Burning Tails school, but the team they thought they had fell apart. Now he and his coach Divya have to scramble to train new recruits sent over from their sponsors The Swiftwell Courier Service. Are June Hymnal and Braith Ashworth what Torikoshi and The Burning Tails need? Can he rise to the occasion if they are?
CONTENT NOTE
Wanting to impress family, being kinda mean, baby noises
2023 CONVENTION TOUR SCHEDULE
ACD Games Day May 24-26, Madison WI
Gencon August 3rd-6th, Indianapolis IN
CAMPFIRE CARDS
Email preorder receipts to contests@oneshotpodcast.com to win the right to choose the subject of the next Skyjacks short story.
SKYJACKS: CALL OF THE SKY

SKYJACKS SETTING ZINE

BLACK LIVES MATTER
Find And Donate to a Local Bail Fund
MAILING LIST
If you want to be notified about our upcoming soundtrack, setting information, games, live shows, or anything else related to Skyjacks, join our mailing list!
JOIN HERE!
MERCH
Put Skyjacs on your body
MUSIC
Arne Parrott
"Division" Kevin MacLeod (incompetech.com)
Licensed under Creative Commons: By Attribution 3.0
http://creativecommons.org/licenses/by/3.0/
EDITING
Aly Grauer