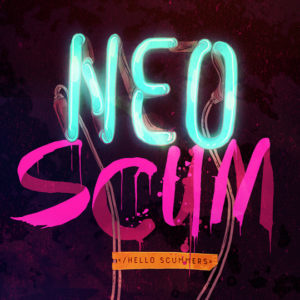 Ep 92: NeoScum Saves Christmas // Snake Eyes
January 10, 2022
Show Notes
Seeking Rhon and, by association, Lil Marco's recently-widowed ex, Tabatha, the NeoScum follow a lead to the home of Shaquille Squeebo. It's a Douche Palace in a gated community of Douche Palaces. Chaos, and Christmas, ensues.
NeoScum is Blair Britt, Mike Migdall, Gannon Reedy, Eleni Sauvageau, and Casey Toney. Yeah, daddy. You can find NeoScum on Twitter, on Reddit, and at NeoScum.com.
// THE GOOD STUFF
This episode of NeoScum contains music from Gio Benedetti and the following songs from HoZac Records:
Take Me In To Your Trance – Chicos de Nazca
I Know You Know – The Band In Heaven
Lost Souls – NUN
Ai is a Pencil – Ruby Karinto
The Boys of Summer Sam – The Band In Heaven
I'm Dead (Instrumental) – The Limiñanas (ending plug)
Music may have been edited or modified for use. Learn more about HoZac and the artists they support at HoZacRecords.com.