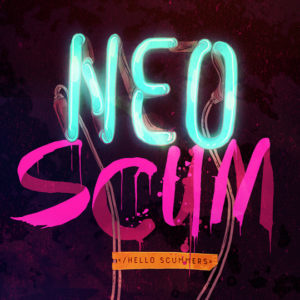 Ep 85: Chasing Losses (w/ Stephen Kropa)
July 21, 2021
Show Notes
The crew pays the blind on the hand they were dealt and sets off in pursuit of Lil Marco's widowed ex-wife Tabatha. They'd like answers, but Rhon's eggs are scrambled and there's little time to lose.
Featuring Stephen Kropa as Rhon.
NeoScum is Blair Britt, Mike Migdall, Gannon Reedy, Eleni Sauvageau, and Casey Toney. Yeah, daddy. You can find NeoScum on Twitter, on Reddit, and at NeoScum.com.
// THE GOOD STUFF
This episode of NeoScum contains songs by Gio Benedetti:
Missing Sister (Morricone Mix)
NeoSad Theme (Ethereal Mix)
NeoSad Theme (Guitars Mix)
And the following music from HoZac Records:
Crystal Anis – The Limiñanas
Ragnaraak – Verma
I'm Dead (Instrumental) – The Limiñanas (ending plug)
Music may have been edited or modified for use. Learn more about HoZac and the artists they support at HoZacRecords.com.