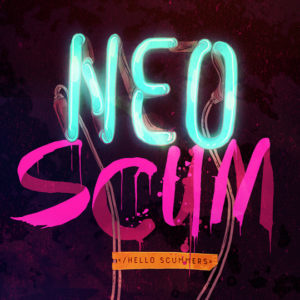 Ep 100: Scum Together (Finale, Act I)
April 1, 2022
Show Notes
With miles between them and the clash of gunfire and gigagiant, the NeoScum take refuge at Manuelder's garage. There's a lot to unpack, but at least they're safe.
…They are safe, right? Why's this blurb still going? They're safe, right??
NeoScum is Blair Britt, Mike Migdall, Gannon Reedy, Eleni Sauvageau, and Casey Toney. Yeah, daddy. You can find NeoScum on Twitter, on Reddit, and at NeoScum.com.
// THE GOOD STUFF
This episode of NeoScum contains music from Gio Benedetti and the following songs from HoZac Records:
Maria's Theme – The Limiñanas
Restless – People's Temple
I'm Coming Down – Georgiana Starlington
Mr Cool – Killer Kane Band
I'm Dead (Instrumental) – The Limiñanas (ending plug)
Music may have been edited or modified for use. Learn more about HoZac and the artists they support at HoZacRecords.com.