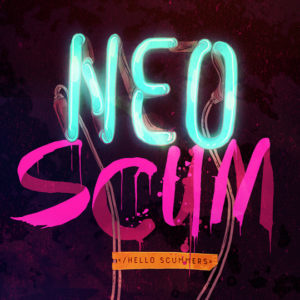 Ep 81: Neo Genesis Evangeliscum
May 9, 2021
Show Notes
Deep in the rocky expanse of Moab wilderness, Dak, Pox, and Tech claim their mechanical prize. Get in the robot, NeoScum. The Lich awaits.
NeoScum is Blair Britt, Mike Migdall, Gannon Reedy, Eleni Sauvageau, and Casey Toney. Yeah, daddy. You can find NeoScum on Twitter, on Reddit, and at NeoScum.com.
// THE GOOD STUFF
This episode of NeoScum contains the new and mind-blowing NeoMetal Theme by Gio Benedetti, featuring:
Paul Haile – Drums, Engineering, Mixing
John Courage – Lead Guitar 1
Alex Leach – Lead Guitar 2, Solo
Gio Benedetti – Bass, Rhythm Guitars
And the following music from HoZac Records:
Say Hello To The Sun (For Me) – Cowboys
Never Been To The Beach – The Sueves
Future City – Heavy Times
Erase The Sun – Heavy Times
Immersion II – Nun
I'm Dead (Instrumental) – The Limiñanas (ending plug)
Music may have been edited or modified for use. Learn more about HoZac and the artists they support at HoZacRecords.com.