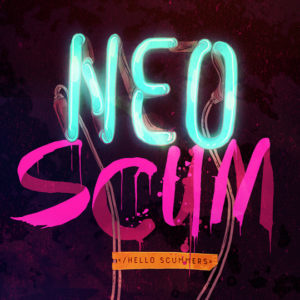 Ep 72: Factory Settings
December 7, 2020
Show Notes
It's just a few miles' road and one abandoned factory between the NeoScum and sweet Xanadu's warm embrace. Simple. But simple don't come easy to NeoScum.
NeoScum is Blair Britt, Mike Migdall, Gannon Reedy, Eleni Sauvageau, and Casey Toney. Yeah, daddy. You can find NeoScum on Twitter, on Reddit, and at NeoScum.com.
// THE GOOD STUFF
This episode of NeoScum features the Love Theme (Keys) by Gio Benedetti and following music from HoZac Records:
I'm Coming Down – Georgiana Starlington (starts 4:50)
Mirage – Georgiana Starlington (7:40)
Song for Ellie Mae – Soft Candy (9:10)
AF3458 – The Limiñanas (29:00)
Betty and Johnny – The Limiñanas (50:40)
Last Regret – The Sueves (1:01:00)
Little Elise – GAMES (1:14:00)
I'm Dead (Instrumental) – The Limiñanas (ending plug)
Music may have been edited or modified for use. Learn more about HoZac and the artists they support at HoZacRecords.com.