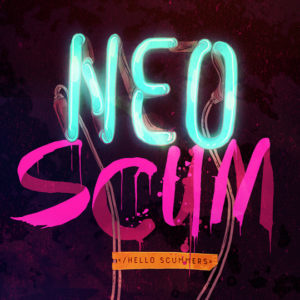 Ep 55: Into the Fire
September 24, 2019
Show Notes
If the Living Race bans the NeoScum for breaking the rules, they will face God and walk backwards into Hell.
NeoScum is Blair Britt, Mike Migdall, Gannon Reedy, Eleni Sauvageau, and Casey Toney. Yeah, daddy. You can find NeoScum on Twitter, on Reddit, and at NeoScum.com.
Watch Mike, Eleni, Casey, and Blair play games on their Twitch channels! Mike & Eleni @ twitch.tv/itsmikelenitime, Casey @ twitch.tv/caseyponey, and Blair @ twitch.tv/blairbrittproject
Support the NeoScum Patreon and access dozens of hours of exclusive bonus content and episodes, including the NeoScum Gen Con 2019 Live Show!
This episode of NeoScum features the following music from HoZac Records:
Living In The City – Dwight Twilley Band (starts 2:15)
Handsome Nick – People's Temple (starts 7:45)
Continental Son – Straight Arrows (starts 23:40)
The Train Creep A-Loopin – The Limiñanas (starts 1:01:00)
I'm Dead (Instrumental) – The Limiñanas (ending plug)
Music may have been edited or modified for use. Learn more about HoZac and the artists they support at HoZacRecords.com.