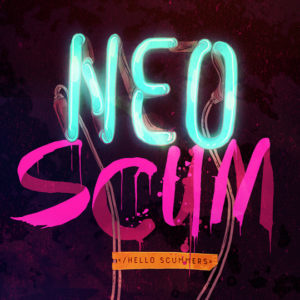 Ep 36: Hell and Back, Pt. 1
September 25, 2018
Show Notes
Minutes in Hell can feel like a lifetime, and it only takes a second to die.
[*The first of two parts.*]
*NeoScum is Blair Britt, Mike Migdall, Gannon Reedy, Eleni Sauvageau, and Casey Toney. Yeah, daddy. You can find Neoscum on [Twitter](https://twitter.com/neoscum), on [Reddit](https://www.reddit.com/r/NeoScum/), and at [NeoScum.com](http://neoscum.com).*
*Special Thanks to Official Cousin of the Show, Gio Benedetti. Check out Gio's music and art at [giobenedetti.com](http://giobenedetti.com/)*
*Support the [NeoScum Patreon](https://patreon.com/NeoScum) and access hours of exclusive bonus content and episodes.*
The [Audioverse Awards](http://www.audioverseawards.net/site/) are coming soon! Keep an eye on the [NeoScum Twitter](https://twitter.com/neoscum) for details on how to cast your vote for NeoScum across multiple categories.
This episode of NeoScum features the following music from HoZac Records:
– Stranglin' You – Slug Guts (starts 2:12)
– Lost Souls – Nun (starts 12:12)
– The Boys of Summer of Sam – The Band In Heaven (starts 29:31)
– When The Time – Games (starts 54:30)
– I'm Dead (Instrumental) – The Limiñanas (ending plug)
*Music may have been edited or modified for use. Learn more about HoZac and the artists they support at [HoZacRecords.com](https://www.hozacrecords.com)*