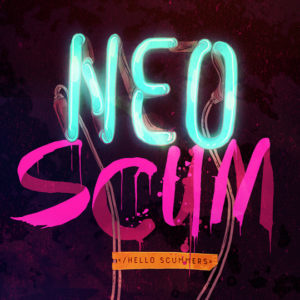 Ep 30: Neo Vacancy
June 6, 2018
Show Notes
Fleeing Denver like a bat out of hell, the NeoScum break at a hideaway hotel. What could possibly go wrong?
FEATURING the announcement of The NeoScum Patreon! Support NeoScum and access loads of bonus content at patreon.com/NeoScum.
NeoScum is Blair Britt, Mike Migdall, Gannon Reedy, Eleni Sauvageau, and Casey Toney. Follow NeoScum on Twitter @NeoScum and on Reddit r/NeoScum.
This episode of NeoScum features the following music from HoZac Records:
Un Ballade pour Clive – The Limiñanas (starts 1:35)
The Button – The Sueves (starts 12:25)
El Beach – The Limiñanas (starts 51:23)
Jugemu – Ruby Karinto (starts 1:15:32)
I'm Dead (Instrumental) – The Limiñanas (the ending plug)
Music may have been edited or modified for use. Learn more about HoZac and the artists they support at HoZacRecords.com