June 12th, 2017
Alex, Meg, and new host Pranks discuss what they've been up to since the last Second Watch.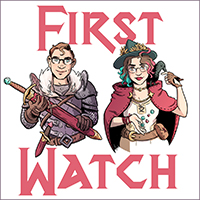 January 27th, 2017
James and Kat take on the holidays covering: Antarctica, Geek & Sundry, The Election, and surviving pain. Then they roll Knowledge Morality to explore ways to have fun with the classic alignment system. Finally they spend an hour discussing various types of super intelligent rats. These two are winners.
January 8th, 2017
Several months ago Jim, Alex, and Meghan talk about birthdays, game conventions, acceptable forms of sweet potato, and SO MANY GAMES. SO many games. Did you know we like games? We'll tell you about ALL OF THEM.
October 6th, 2016
James and Kat discuss their fun lives for the past two months including Grumpy Witch, Illimat, and Gencon!
September 2nd, 2016
It's a very sleepy episode as Alex, Jim, and Meghan record together on the last day of Gen Con! Expect a full recap of our con experiences, lots of gushing about New World Magischola, and a very important discussion on the subject of hugs.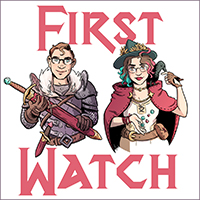 July 25th, 2016
James and Kat recap their jam packed June, talk about LARP, Overwatch, Voltron, and more!
July 1st, 2016
On this episode of Second Watch Alex, Jim, and Megan talk about all that lives for the last few months and cover all of the forbidden subjects. Politics, religion, and strap-ons.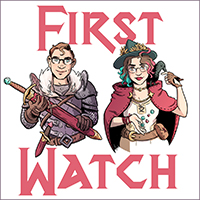 May 30th, 2016
This week James and Kat cover Hamilton, Pacific Northwest Stories, and Kickstarter in an extra long bro chat.
April 8th, 2016
Meghan, Alex and Jim are finally awake, and the Second Watch tackles garbage television, fursonas, mangoes, and of course games.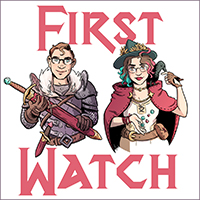 April 8th, 2016
James and Kat discuss Kickstarter, worldbuilding, and get help from a special guest for their random encounter!