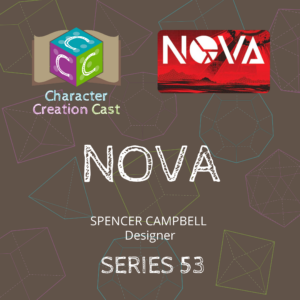 Series 53.3 – Nova/Lumen with Spencer Campbell [Designer] (Discussion)
August 15, 2022
Show Notes
Welcome to the final part of our Nova/Lumen series, everyone! This series we have Spencer Campbell joining us to showcase his fast-paced, action heavy RPG, Nova, a rules-lite tabletop RPG in a world where the sun exploded, and humanity struggles to hold onto what little light they have left. In this episode, we discuss the character creation process, pick Spencer's brain about character creation, and dive into some phenomenal fanfic!
Character Creation Cast Patreon
Announcements:
AcadeCon 2022 Kickstarter

Welcome Mystery County Monster Hunters Club to the One Shot Network!
Leave us reviews in any, or all, of these places:
Character Creation Cast on Apple Podcasts (The best place to leave reviews for us)
Character Creation Cast on Podchaser
Character Creation Cast on Facebook
Guests and Projects:
Spencer Campbell @GilaRPGs
satah @nuditea
Games and Tools discussed this episode:
Nova:
Timestamps:
00:00:00 – Announcements

00:01:12 – Reintroductions

00:06:41 – D20 for your thoughts?

00:12:25 – What does Spencer look for in character creation?

00:17:41 – What story do the Nova character sheets tell?

00:21:54 – How does character creation stack up to other games we've played?

00:28:37 – How does character creation set expectation for play?

00:36:17 – Biggest flaw/Best Part of Nova Character Creation?

00:40:36 – Fanfic!

00:49:40 – Take it up a level!

00:53:35 – Final Thoughts and Episode Closer

00:55:08 – Call to Action

01:02:59 – Credits

01:04:53 – Show Blurbs – Mystery County

01:05:48 – Outtakes
Transcripts
Music:
Our Podcast:
Character Creation Cast:
Amelia Antrim:
Ryan Boelter:
Our Website:
Our Network:
Network Patreon: