This week James D'Amato, Patrick Winegar (Brandon Lightening aka Myserique), Kat Murphy (Trixie LaRoux), John Patrick Coan (Leon Kameilski aka The Chameleon),  and Alex Nichols (Larry "Lefty" LaRoux) get together for ONE LAST JOB.
James asked friend of the show Dan Stauffer, newcomer Brian Moody, and special guest General Ironicus to play Police Cops! is a pulpy action based police procedural game.
It's save the universe time as the brave agents of Time Watch discover the dark meaning behind the Seven Wonders of the world. The fate of the current timeline is with them. Can our heroes save the earth? Can Carmen San Diego be trusted? Is Mace Hunter/Skegg going to be a thing!?
The plot thickens as the team heads to the great wall of china to investigate the remaining wonders of the world before they are lost to history forever! There they come face to face with the dastardly villain behind this plot, but is she friend or foe?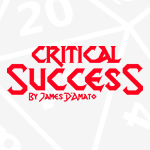 James discusses the art of voicing characters. This episode has improv techniques for developing character voices, advice on how to fudge certain voices you can't do, and the secret to good voice work.
The royal hijinks continue as the princesses discover the gates to the lost castle in the kingdom of adventure. What sort of horrors await them inside? Skeltons? Litches? BOYS!?