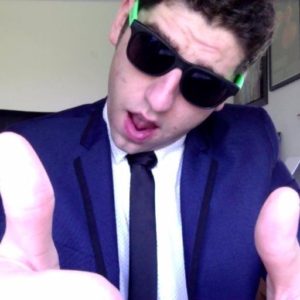 Jared Hounshell
Jared Hounshell graduated from Miami University with a degree in Creative Writing and a minor in Film Studies. You can catch him appearing at various improv shows around Cincinnati as a member of Highly Improvable. He is also the creator/co-host of the podcast "The Twicast" in which he routinely makes fun of his garbage teenage self. Jared spends way too much time talking about X-Men comics, listening to pop music, and watching horror movies. He is still waiting on Kingdom Hearts 3.
Emily Reinhart
Full time bookseller, part time belly dancer, not often enough fighter for justice! Emily got involved in table top at an early age, drawing the characters her friends played. From there she was dragged into the underbelly of the gaming community by her fellow booksellers, and never looked back. She has peen playing tabletop games for many years and has recently started the fine art of GMing.
Outside of gaming she likes to fill her schedule to the brim. She is a 2nd degree black belt in the ancient Chinese form of shaolin-do Kung Fu, has been dancing with Anaya Belly Dance for over 7 years, designs costumes for her many cosplay conventions, and in the spare time she has left likes to write and draw

Thomas A. Smiley.
Despite devoting most of his time to engineering matters, Thomas has been floating around his hometown Indianapolis scene of comedy and acting for a decade, cutting his teeth mostly in small comedy clubs and hamming it up in commercials. He currently resides in Cincinnati due to a clerical error and poor fact checking. So while he's here, he has decided to make the best of it and dabble in a bit of the entertainment and make a few people laugh.
The mercurial nature of Thomas makes for an eccentric collection of hobbies. Generally he can be found swing dancing any given week, but like a Jack of all Trades there's practically nothing he won't pick up and run with for novelty's sake. Thomas can best be described as a blind man in an orgy: he's just feeling things out.